Radically Rural Networking!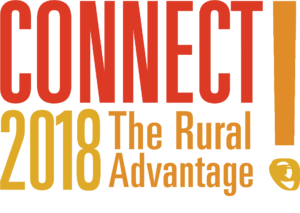 Thursday, September 27, 2018, 5:00 – 9:00 p.m.
Put aside everything you know about typical networking events and join us on September 27th for CONNECT 2018: The Rural Advantage! The inaugural Radically Rural summit includes our highly attended annual networking event, CONNECT2018 – an annual gathering of hundreds engaged, locally focused community members celebrating and fostering the advantages and opportunities of rural living.
CONNECT Begins at 5:00 p.m.
Join us at 5:00 pm for a unique networking opportunity and amazing local food by CC&D's Kitchen Market.
Check out CONNECT's Sculpture Gallery!
Once again, CONNECT is staged by Machina Arts, a local events company that often uses local artists in its presentations. This year, 14 local artists will display their work in a sculpture gallery on the floor of the Mabel Brown Room and in the balcony.
Hannah Grimes' Entrepreneur of the Year Award
During the evening, Rebecca Holland of Holland Homestead Farm will be presented with Hannah Grimes' Entrepreneur of the Year Award. Holland manufactures skin care products made from goats' milk.
Announcing the Winner of the $10,000 PitchFork Challenge
Earlier in the day, during Radically Rural's entrepreneurship track programming, local investors will listen to various startup companies make pitches for a $10,000 grant and another $1,000 for the best idea. The announcement of the winners of those awards will be made during CONNECT.
Dance to the Music of the Gas Light Tinkers
From 7:00 p.m. – 9:00 p.m., join us for music featuring popular Brattleboro, Vermont-based band, The Gaslight Tinkers. The band features African, Caribbean, funk, reggae and Latin sounds blended with traditional fiddle music!
Register Now!
Purchase your tickets in advance through www.radicallyrural.com for $45 or at the door for $55. Those wishing to attend Radically Rural and pick from all tracks can register through the website for $149 with CONNECT included in that price. For more information on tickets, contact Shannon Hundley at shannon@hannahgrimes.com.